MEET

 ALGARVE WATERSPORT TEAM
The AWS princess, she is in charge of the camp in Daniel's absence. Charming and hard-working like no other, this power woman is trilingual in German, Hungarian and English. She has a passion for surfing and snowboarding. Don't be surprised to hear her welcoming laugh 24/7 as she never leaves the house without it. She is the caring mother of the AWS family!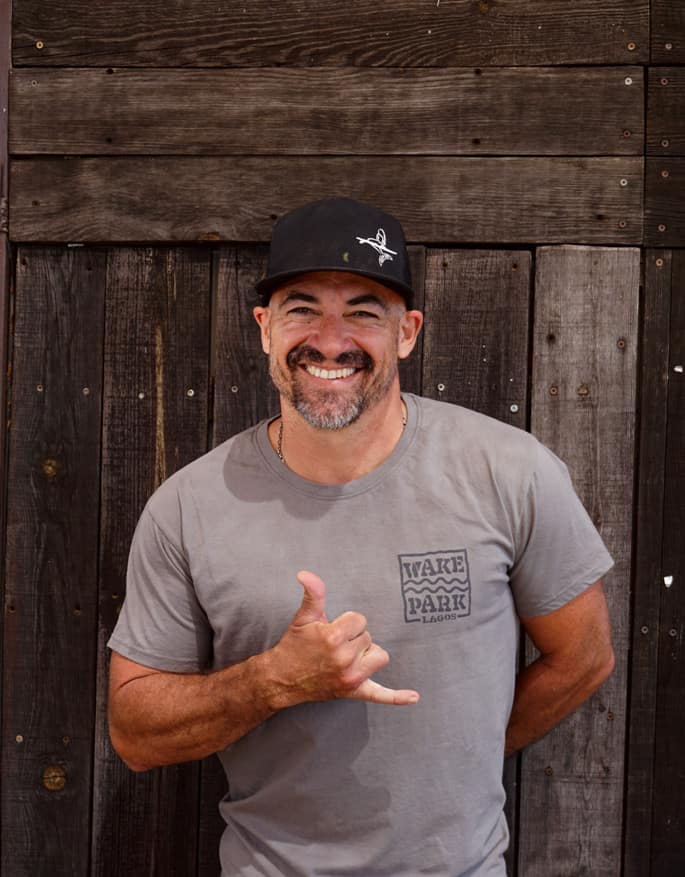 The owner and founder of AWS, obsessed with all board sports for over 30 years. Daniel used to be a team rider in snowboarding, but he can literally ride any kind of board. 10 years ago he made his dream come true: ''A place where you can get into the water at any conditions.'' AWS provides all water sports in our well known and wonderful Algarve Watersport camp.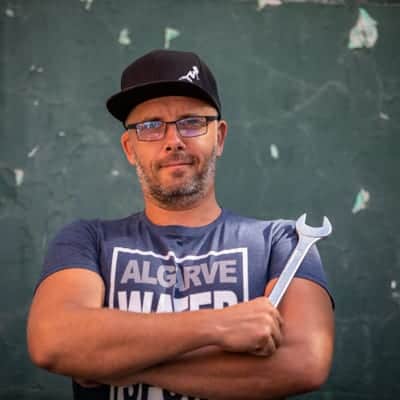 Mechanic, Maintenance, Creative Corner
Almost everything you see in and around the camp has been made by Trick's magic hands and brain. The Estonian-Tirolian super-handy-man made our camp (and also the sister camp in the mountains) a beautiful and cozy place to be for the past few years. A true soul hippy spreading a great vibe, does what he wants and believes in the right things.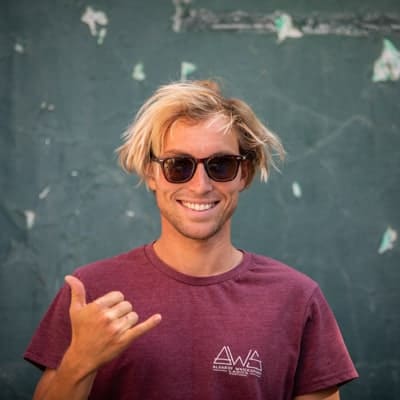 Our Head kite instructor Jakob has the brightest and widest smile in all of AWS, if not in the Algarve! He'll teach kitesurfing to anyone, anywhere. No matter if it's water starts, jumping or foiling. With a degree in Geography, he is one of the guys who actually really understand the wind. Besides his addiction to kitesurfing is he also know for being crazy about chocolate, ice cream, and anything sweet.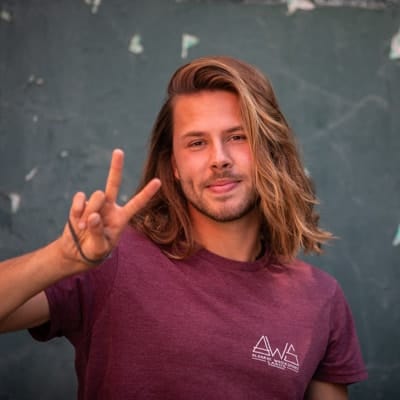 Adam is our marketing ninja and passionate kiter. His experience and passion for the sport make him a great instructor, which will share with you all his stoke. When he is not sending it kiting, he is sitting with his laptop making sure that everyone will find out about our awesome camp. You can always ask him about kiting gear, he knows everything about it. He also loves to wakeboard, surf and… party :D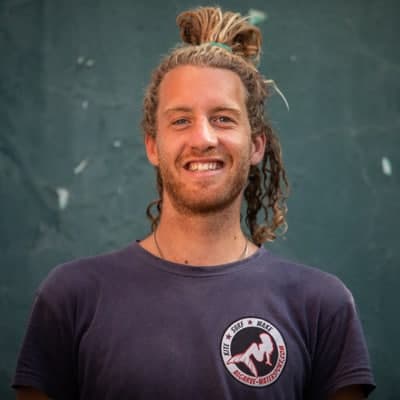 Bence is one of our most passionate wakeboarders, who also teaches kiteboarding and SUP. He is always there for a laugh and with his sense of humor, guaranteed makes you laugh as well. With his afro hair and smooth moves, you'll be happy to see him anytime. He is an entertainer without even knowing, ripping on all kinds of boards.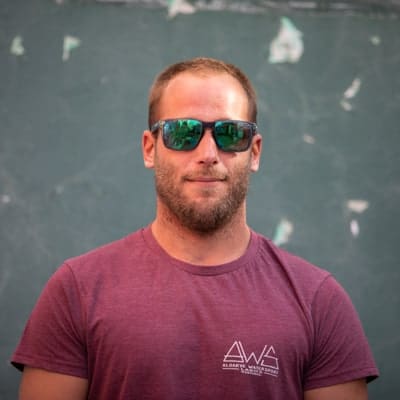 Andras, our chilled head surf instructor illustrates everything that surfing has to offer. This shows in his love for nature and relaxed lifestyle. His remarkable endurance and great excitement for waves can keep him in the ocean for literally the whole day. Patient like a coral he will get you up on the board surfing in no time.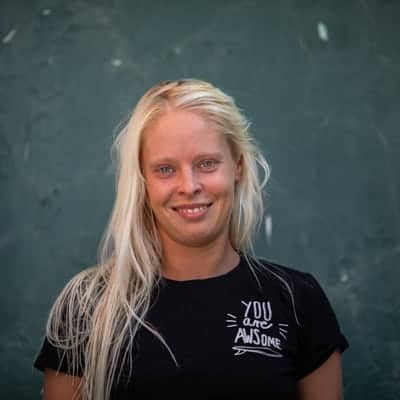 Sabinki is our charismatic and hyperactive Eastern European chick. She is working in the office together with Becca and making sure that you are having a great time at the camp. Very expressive, always happy and loads of fun. Spending the past years surfing around the world, Sabinki could never go back to her previous job in rainy London. She only needs the ocean, somebody to talk to and a good laugh to stay happy.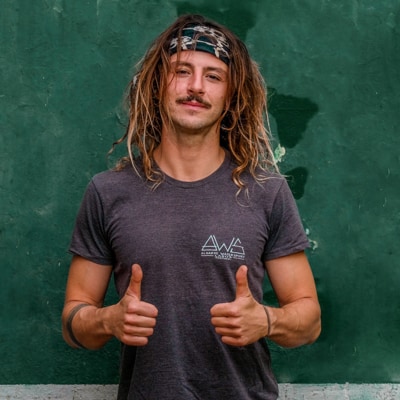 Surf Instructor/Rock Star
Mateo, our polish surfer whose passion for teaching surfing is as big as his love for music. Whenever he is not surfing waves he is killing it on the guitar.  Whenever you will be in Lagos and the area we highly recommend going for one's of Mateos concerts. What he can do with a guitar is pure magic!!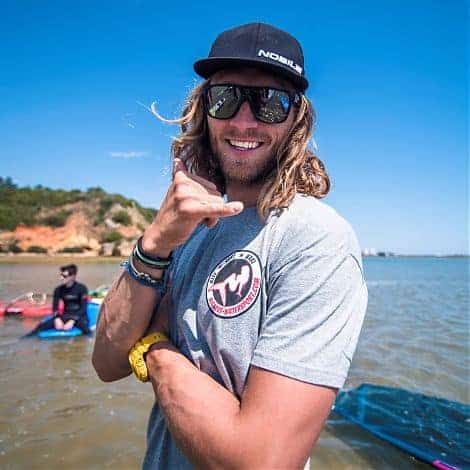 Marcin has literally all board sports on the water as a hobby and is good at all of them. He is smooth on the SUP, a surfboard, wakeboard, under a kite, even with a hydrofoil! Marcin has his own surfboard brand "Polvo". As a professional physiotherapist, you can tell by the way he moves over the water that he knows exactly what he is doing. He is always on the move, just like his dog Hela. His latest passion is wing foiling!
Photographer/ Wake park Queen
Merci, our incredible photographer is always walking with a camera trying to catch every smile and laugh of our guests. She is behind all the photo content of the whole camp. Look for her whenever you are kiting or surfing maybe you will be lucky to get your most astonishing photo from the holidays. Whenever she is not photo shooting or editing, you can find her in the wake park.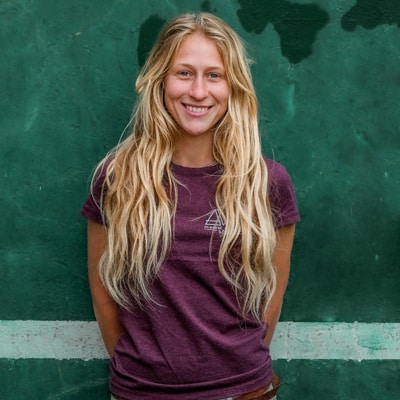 Celina is our dynamite of positive energy in the camp! Always smiling and energetic you will see her running around sorting out a million things at once.
In her free time, Celina is either surfing or taking care of her horses. If you would like to learn how to ride a horse you should definitely talk to Celina as her experience and knowledge about these animals is huge.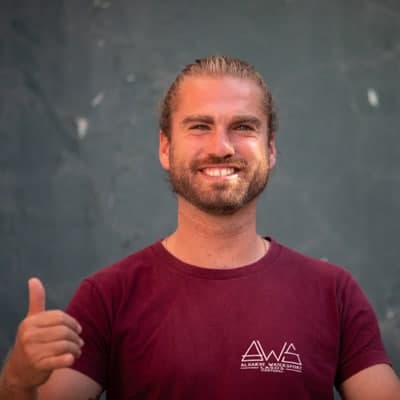 Adam is the perfect example that sometimes following passion changes whole life for the better. Lawyer by degree, Adam travels the world to windsurf around and teach people this beautiful yet precise sport. Maybe windsurfing is his main sport but you will see him ripping waves, hitting kickers on wake park, or even kiting from time to time. True all-around waterman!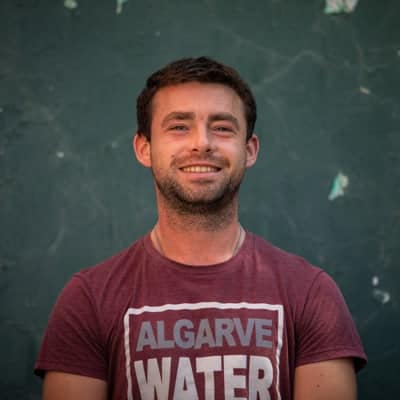 If you are kiting and windsurfing on the lagoon for sure you know JT. Our fearless boat captain is always helping people in need of rescue. When he is not on the boat, he is either teaching kite or ripping on the wake park. JT is always smiling a lot and always eager to help. He is also doing sick pictures!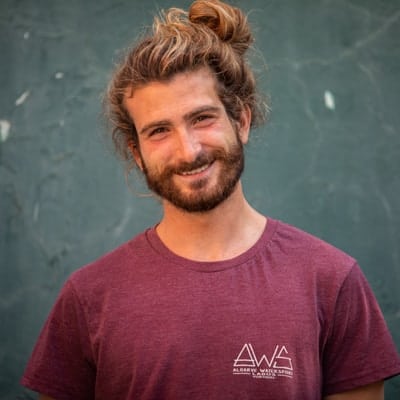 Angel, a Spanish surfer with a smile that never disappears from his face. When you will meet Angel his positivity will make your mood better that day, no doubt. Super chill, patient, and carrying surf instructor, turns into a shredder on the waves! Except catching waves with ease like it would be having morning coffee, Angel's hobbies are skating and playing guitar, or maybe playing guitar while skating…? You will definitely see him doing both around the camp!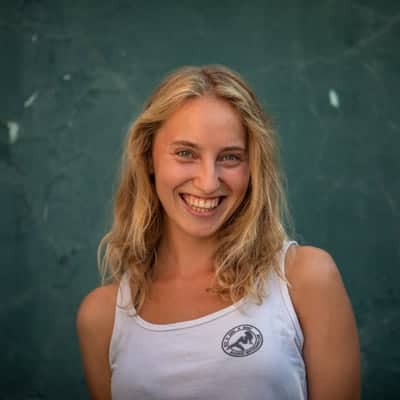 Lizi's smile can definitely make your day. Our precious house Queen has a degree in chemistry, but her hobby is doing short videos with old-school cameras. Always calm and smiling she is the first to help anyone around the camp.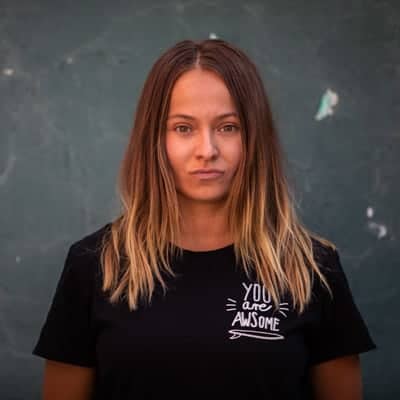 Niki is one of the people without whom our surf camp wouldn't be so cozy and tidy. She is a very energetic and perceptive girl from the Czech Republic that also does amazing photoshoots. Maybe if you will be lucky she will catch you on a wave with her camera.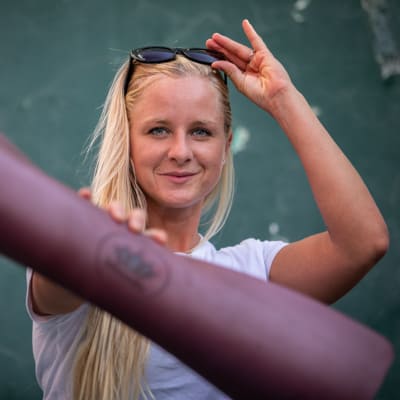 Lizi's biggest passion next to surfing is yoga, that's why she decided to move to Algarve to connect both of them. After traveling half of the world now she is enjoying living in the warmest part of Portugal. You can join all of Lizi's classes and enjoy relaxing Hatha Yoga in the camp or Wake park. Whenever she is not practicing yoga, Lizi is looking for her perfect wave.