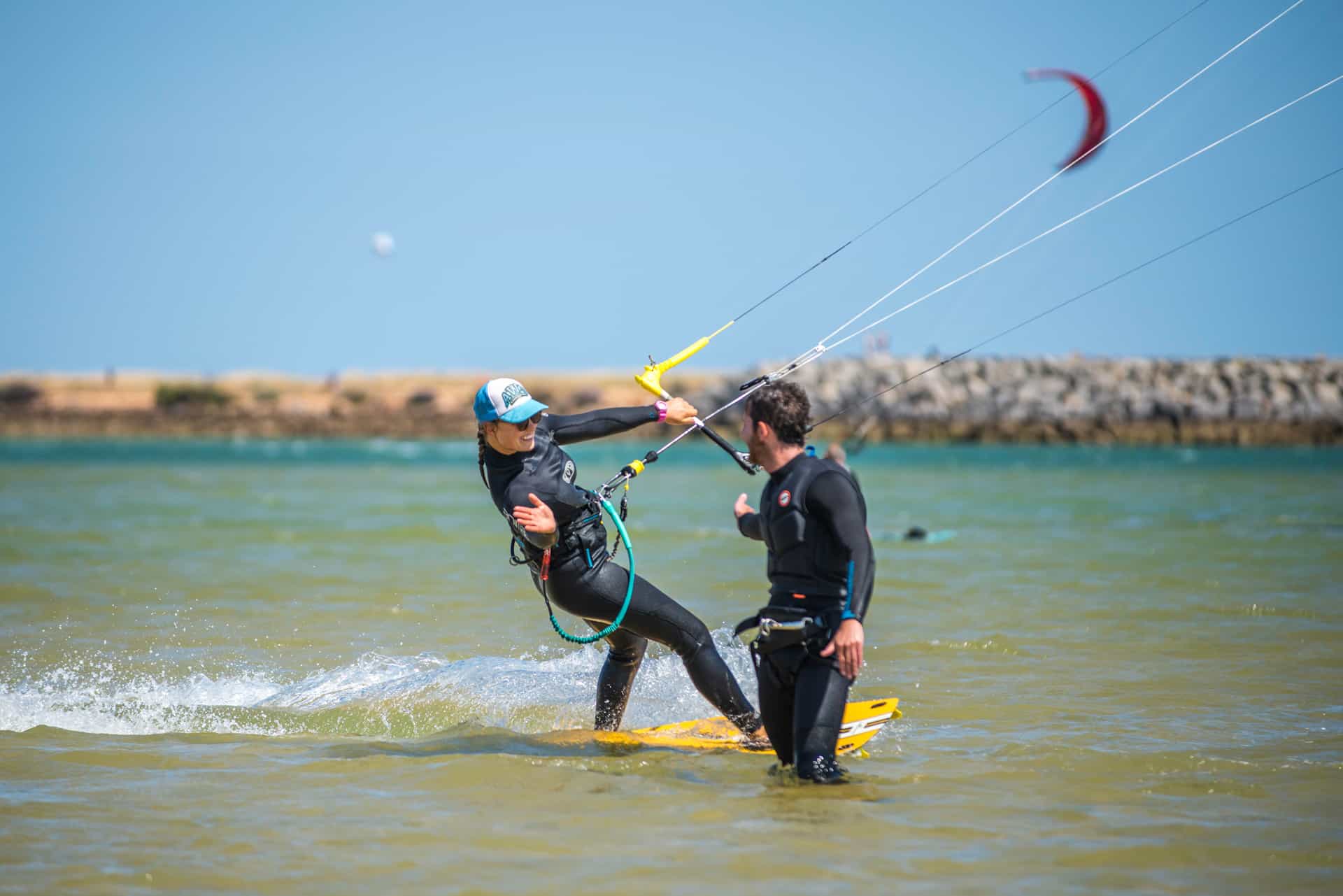 Kitesurfing School
in LAGOS
Welcome to our kitesurf school in Lagos, Portugal! Our team of experienced and certified instructors is here to provide you with the best possible learning experience. During your lesson, you'll be taught in a safe and supportive environment in our prime location on the Ria do Alvor lagoon – best kitesurfing spots in Lagos and west Algarve.
Whether you're a beginner or an experienced rider looking to improve your skills, our kitesurf school in Lagos is the perfect place to start or continue your journey with this amazing sport. Come join us and experience the thrill of harnessing power of a wind to ride on the water !
Kitesurfing lessons

for all the levels
Beginner kitesurf lessons
Join our lessons for beginners and learn the basics of kite control, safety measures, and body dragging skills to get you started on your Lagos kitesurfing journey.
Intermediate kitesurf lessons
Learn how to progress from body dragging to riding on the board, improve your confidence with a kite and get to your upwind independent riding. With us, you will enjoy your first rides in no time!

Advanced kitesurf lessons
Want to learn how to jump, do your first unhooked raley, or work on those jumps and loops? Join our advanced lessons and progress super fast!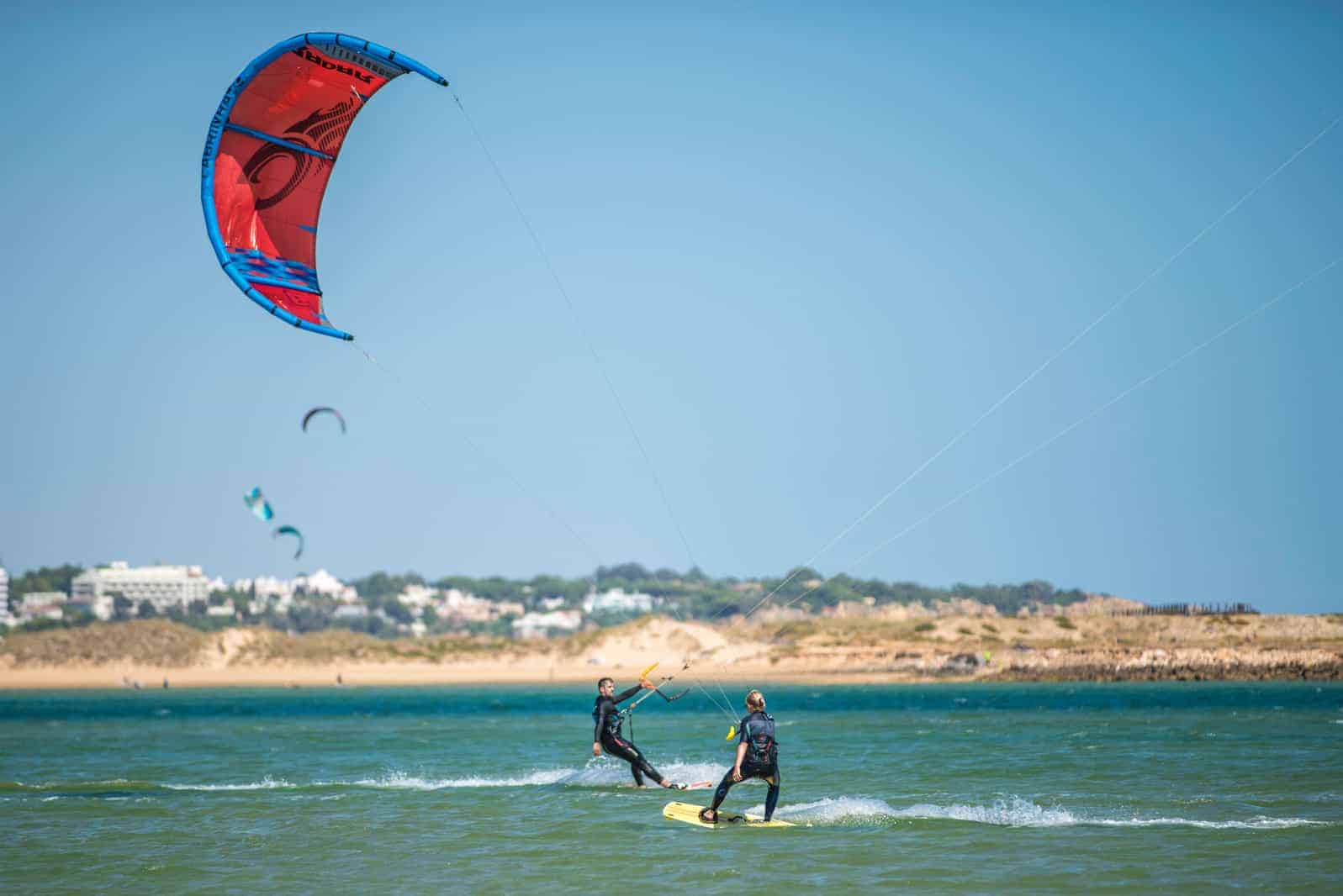 Where do we teach?
You will learn to kite surf in one of Portugal's best spots at our Lagos kitesurf school! On the Ria do Alvor, a lagoon situated couple minutes from our base on the way to Alvor, our qualified instructors will show you the basics of kiteboarding on optimal wind and water conditions with top-of-the-line kite equipment. Lagoon welcomes us daily with shallow waters and plenty of space to practice.
Between May and August, lagoon becomes best spot to kitesurf in Algarve with daily wind reaching speeds between 15 to 25 knots in the afternoon offering excellent wind conditions for kitesurfers of every level.
Our
kitesurf

Lagos Center
At Algarve Watersport from more than 16 years we are getting new students hooked on this amazing sport.
Our kitesurf school offer different types of lessons to match everyone's progression curve.
Each of the lesson types has its benefits and can be ideal for different people.
If you are not sure which kite lesson to choose, let us know, and we will help you decide.
If you are already advanced rider and you want to ride yourself you can rent kite equipment from us during our lessons on the lagoon.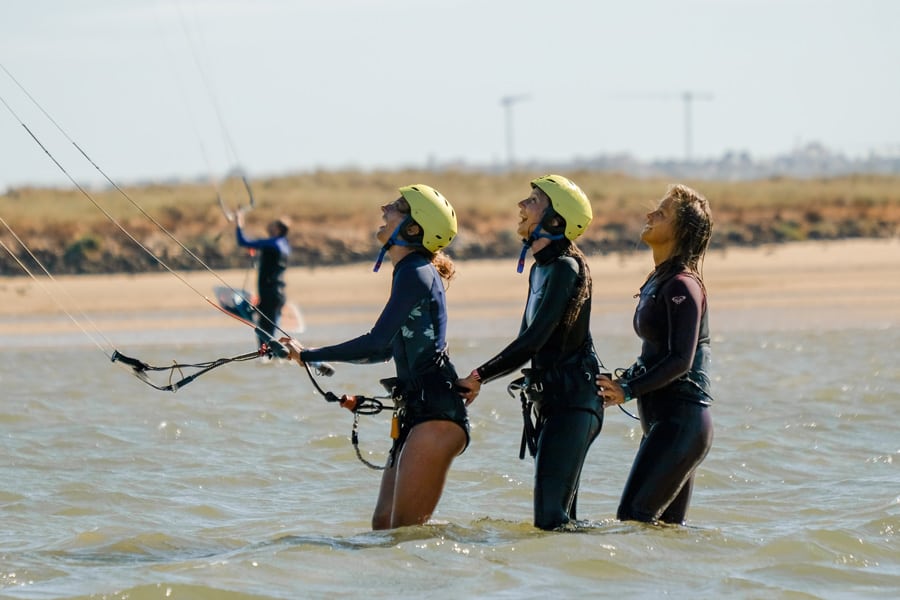 Group Lesson
During the group lesson, you will share a kite with another person—an ideal lesson for beginners and people who don't want to rush. 
Lesson take 3 hours.
Semi-private lesson
Recommended lesson for people who already tried kitesurfing and are safe with the kite. Have a kite for yourself and share the instructor with other student.

Lesson takes 2,5 hours.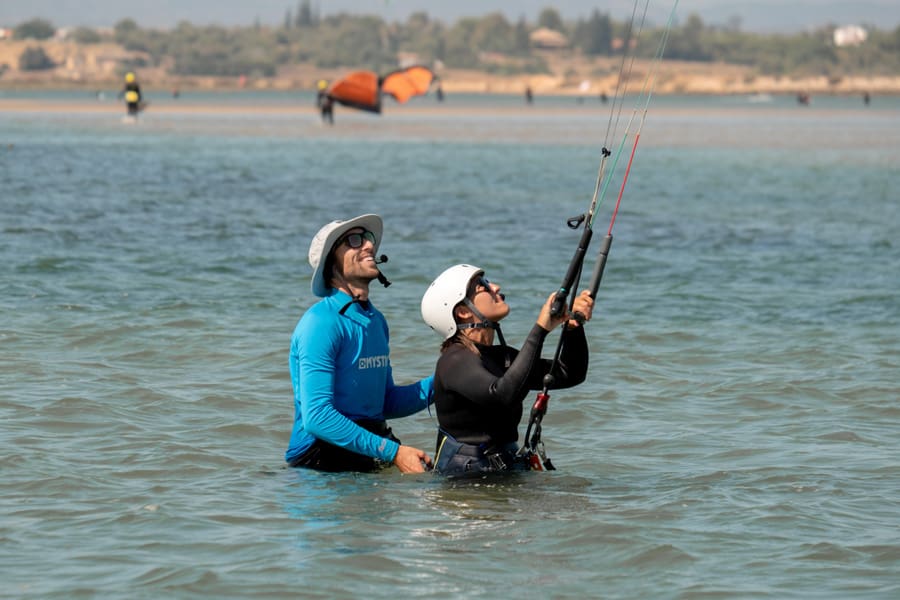 Private lesson
Are you working on the body dragging or first jumps?  Learn basics and advanced techniques with the undivided attention of your instructor. 
Lesson takes min 2 hours.
LEARNING KITESURFING

WITH US MEANS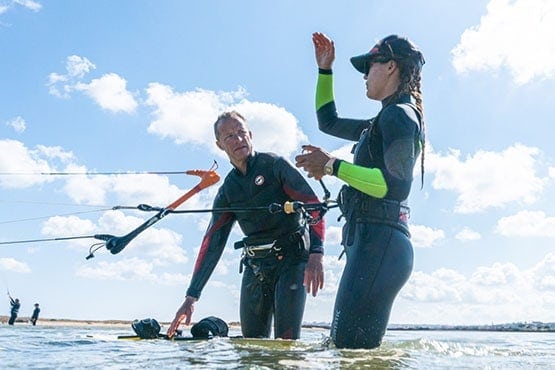 Our kite students are coached by the patient, multilingual and well-trained and certified kite instructors. We certify our students with IKO or VDWS certifications.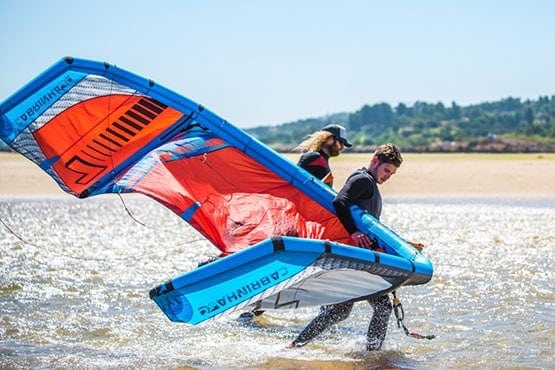 The modern and easy-to-use equipment of our kite school ensures your safety on the water and a fast learning effect. We have a wide range of kite material for beginners and advanced kiters from Shinn boards and North and Cabrinha kites.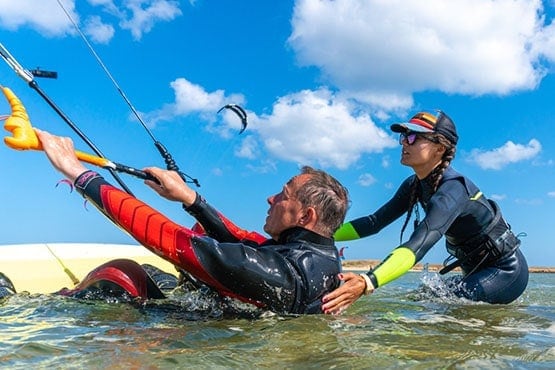 Our lessons are accompanied by a rescue boat (during high tide) and customer video analysis (on request). Our instructors are trained in modern teaching techniques. We also use a radio system for advanced students (on request)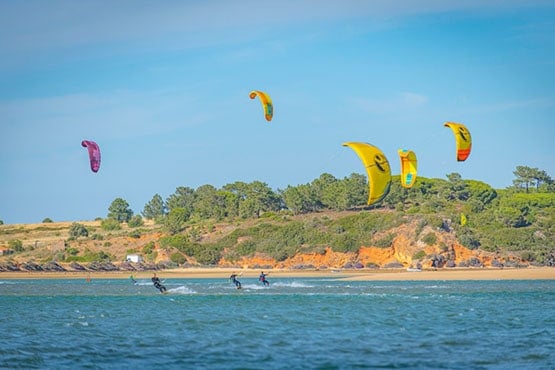 Our spot – Ria do Alvor is a shallow and flat lagoon, where you can start your journey with kitesurfing in a nice and easy way. We are always trying to schedule our lessons during mid and low tide.
Stayed here for a week of kite boarding lessons and had a fabulous time! My instructor Andy was amazing! Knowledgeable, patient, supportive and made learning a challenging activity a lot if fun!
I´ve learned a lot about Kitesurfing. The lagoon is the perfect place to start kiting and we were lucky that we had a lot of windy days there. Our kite instructor Leo was a good teacher. He gave us good tips how to start with kiting but also how to improve our kiteskills after a few days so that we can go kiting with our own stuff now.
Super friendly staff and very skilled trainer. I did 5 kite sessions and in the end i could easily go upwind and any direction i wanted to. Super fun experience!
For Locals from Lagos concelho, we offer discounted kitesurf lessons packages; more info here
FREQUENTLY

ASKED QUESTIONS
HOW MANY PEOPLE ARE IN THE LESSON? CAN I HAVE PRIVATE LESSONS?
Adam
2023-06-28T10:19:39+00:00
At our school, we prioritize your learning experience by following IKO standards and ensuring small group sizes. In our group lessons, we have a maximum of 4 people per instructor, allowing for personalized attention and effective instruction. Even when the groups are at their maximum capacity, we ensure that only two beginners share a kite, ensuring a safe and optimal learning environment.
For those who have progressed in their kite control skills, we also offer semi-private lessons. These lessons are designed for 2 to a maximum of 3 people per instructor, allowing for even more focused and tailored guidance. Once you have reached this level, you can practice further with your own kite, enhancing your skills and confidence.
In addition, we provide private lessons during the low season. These one-on-one sessions offer the ultimate personalized experience. Priced at 80€ per person per hour, with a minimum of 2-hour lessons, you will receive dedicated attention and guidance to accelerate your progress.
Whether you choose our group lessons, semi-private lessons, or private lessons, we are committed to providing you with a safe and effective learning environment, ensuring that you make the most out of your kiteboarding journey.